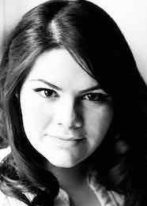 Soprano Athena Babayan is at home singing opera and oratorio, as well as in professional ensembles. As a soloist, she has performed "Rosina" from Rossini's Il Barbiere Di Siviglia, "Blondchen" from Mozart's Die Entfürung aus dem Serail, and "The Queen of the Night" from Mozart's Die Zauberflöte. She was the soprano soloist in Carmina Burana with the King Edwards Choir, among other traditional oratorios, including Handel's Messiah, and Brahms' Requiem. From 2008-2018, she performed and recorded with the JUNO Award winning Ottawa Bach Choir, as a professional member and soloist. With them she has toured Mexico, Germany, England, France, and New York City, including venues such as the Thomaskirche in Leipzig, Saint Paul's Cathedral in London, Notre Dame in Paris, and Carnegie Hall in New York City. She appears on their album, 'Twas But Pure Love, as well as their more recent recording featuring the baroque passion composers Händel, Schütz, and Bach (Winner of the Best Classical Album Vocal/Choral of the 2020 JUNO).

Athena completed the Artists Diploma Graduate Program at The Glenn Gould School of The Royal Conservatory where she received the Ruby Mercer Por Scholorship. She also graduated from York University with a Bachelor of Fine Arts with Specialized Honours in Classical Voice Performance, studying with the famed soprano Stephanie Bogle. There she received an Entrance Scholarship, the Sterling Beckwith Award, the York University Talent Award, as well as the Concerto Competition in her third year. She enjoys writing new music, as well as arranging choral music

From 2010 to 2016, Athena was a teacher at the Merriam School of Music, as a private piano and voice instructor. While teaching there, she taught many new students of all ages, and created and maintained relationships that lasted several years. She has completed, with First Class Honours, RCM Level 10 in voice and RCM level 8 in piano.