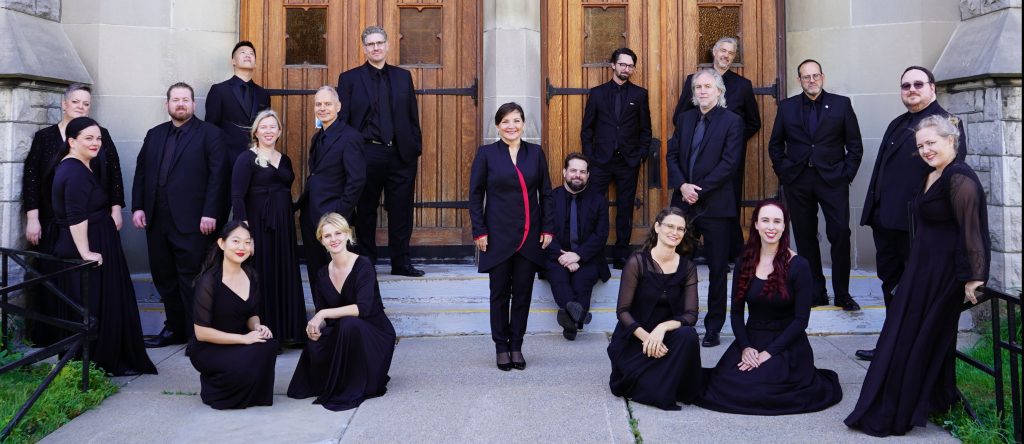 The JUNO award-winning Ottawa Bach Choir (OBC), founded in 2002 by Dr. Lisette Canton, offers audiences a wide range of choral music of the finest quality, performing music from all historical periods while keeping Bach's choral œuvre as the focus of its repertoire. Through a combination of both a scholarly and emotional approach to choral music, the ensemble expands all aspects of the artistic spectrum. Joining some of Canada's most accomplished artists and top choristers from the National Capital region and beyond, the professional choir has received national and international recognition.
Now entering its 22nd season, the Ottawa Bach Choir performs a large subscription concert series in Ottawa and travels extensively in Canada and abroad. In 2022, the choir was invited to return to Bachfest Leipzig as one of a select number of ensembles worldwide (and the only Canadian ensemble) to present Bach's entire chorale cantata cycle. In 2018, the choir sang, for the fourth time, at Roy Thomson Hall in Toronto, and in 2016, the choir toured China, where it was invited to perform as Canada's choral representative in the prestigious festival, Meet in Beijing 2016, in Beijing and Shanghai. Performances in 2015 included an invitation to sing R. Murray Schafer's Apocalypsis in the Luminato Festival in Toronto with 12 choirs from across Ontario as well as over 1000 performers. In 2014, the choir received an invitation to perform in the prestigious international festival, Bachfest Leipzig 2014. The choir also performed other concerts in Venice, Lübeck, Groningen and Amsterdam. In 2012, the choir sang a 10th anniversary performance of Bach's Matthäus-Passion (the very work with which the OBC began in 2002) as well as an invitation to perform at Podium 2012, the biennial conference of the Association of Canadian Choral Communities (ACCC). In 2010-11, performances included a tour to New York City, highlighting debut performances at Weill Recital Hall at Carnegie Hall, the Arts at the Park concert series and the Consul-Général de la France in New York.  In addition, the Choir received its third invitation to sing at Roy Thomson Hall in the Choir and Organ Series, at Redpath Hall in Montreal, and in the Music and Beyond Festival in Ottawa.  In 2008-09, performances included the Festival Música Santa Fe concert series in Mexico City, the Ottawa International Chamber Music Festival and a third tour to Europe, performing for the third time at Bach's church, the Thomaskirche, in Lepizig, as well as at St. Paul's Cathedral and the Foundling Museum in London, Cathédrale Notre-Dame, Église de la Madeleine and The American Church in Paris.  Past appearances have included concerts at the Palacio de Bellas Artes in Mexico City, Roy Thomson Hall in Toronto, the National Arts Centre in Ottawa, Podium 2008 – the biannual conference of the Association of Canadian Choral Communities (ACCC) in New Brunswick, the Montreal Bach Festival, Montreal Chamber Music Festival and Festival de musique classique des Hautes-Laurentides in Quebec and Musique Saint-Bernard in Nova Scotia. The Choir was invited to perform and take over the duties of the Thomanerchor in May 2005 at the Thomaskirche, in Leipzig, and again in 2007.  The choir has also performed in Bayreuth, Prague, Salzburg, Stuttgart and Vienna.
"…you immediately heard the choir's chief assets: a bright, clear and transparent sound; a springy feel for rhythm; beautifully shaded dynamics; and exemplary diction…"
– Steve Smith, NY Times
In addition to its successful performances of all of Bach's major works, the OBC has sung several works from the Baroque period by Buxtehude, Charpentier, Handel, Monteverdi, Purcell, Schütz, Telemann and others, as well as motets of the Renaissance, Romantic and Contemporary periods and French choral music. The choir also engages in an educational outreach program each season and has performed in over 55 schools in the Ottawa-Carleton region.
The OBC has been broadcast nationwide on CBC Radio One and Radio Two, as well as on Radio-Canada, and has recorded seven compact discs to critical acclaim, including JUNO award-winning album, Handel, Bach & Schütz (Classical Album of the Year: Vocal or Choral), released in 2019 on the ATMA Classique label, which presents Handel's Dixit Dominus, and motets by Bach and Schütz, with Ensemble Caprice and countertenor Daniel Taylor. 'Twas But Pure Love, released in November 2016 for its fifteenth anniversary, showcases festive music for the season from the Renaissance to the Contemporary periods, including two Canadian recording premieres! Cantate Domino, released in 2011-12 for the 10th anniversary, includes some of the choir's most beloved repertoire from the past ten years, including music by Bach, Buxtehude, Monteverdi, Purcell, Saint-Saëns, Messiaen, Whitacre and Nystedt. Jesu, meine Freude, recorded in 2008, includes music by Bach with Canadian soloists Daniel Taylor, Agnes Zsigovics, Benjamin Butterfield and Daniel Lichti, and has received critical acclaim. In 2005, Festival Baroque, and A Christmas Story received four-star reviews. The choir's 8th recording, Johann Sebastian Bach: Six Motets, was released in April 2023 on the ATMA Classique label, and its most recent broadcasts have been heard across the nation on the Canadian Broadcasting Corporation's (CBC) Choral Concert and Tempo, and on Radio-Canada's ICI Musique.